by Mason Voth • EMAWOnline – Managing Editor – @TheRealMasonV
Last season Brett Yormark made his Big 12 debut and sent shockwaves through college football when he said the Big 12 was "open for business." Yormark clarified that he was interpreted last season, because the Big 12 is open to adding more members that add value, but the other aspects of business were also important. Those goals are starting to be accomplished, according to Yormark.
Yormark noted how the league has successfully lined up their next TV contract while others struggle in the current sports media climate and in the new deal have reached agreements with FOX and ESPN to distribute some games on their Deportes channels, as well as in Mexico ahead of the Big 12 Mexico initiative beginning next year.
The league also has successfully secured AT&T Stadium as the home of the football championship game through 2030, and is looking to "double down" on other championship sites for baseball and softball. Basketball wasn't as heavily mentioned, as some speculate that Yormark might try to move the tournament out of Kansas City. When pressed on it, Yormark finally said this.
"My first time spending significant time in Kansas City went there with lots of different thoughts. Came away hugely impressed, we don't have to share our voice like other markets where there are multiple tournaments at the same time. I certainly think about that market as one I would like to double down on, we are in conversation with local organizations to extend that agreement."
Another element of success that Yormark thinks the league is achieving is finding ways to better connect with younger fans and Gen Z, which has happened with the brands they have aligned with and plans to continue to innovate the way the league operates.
"This conference is bigger than any two schools."
— Brett Yormark
SONNY DYKES: BALANCING 2022 SUCCESS VERSUS 2023 REALITY
It was a quick ascent for Sonny Dykes and TCU last season and now the Horned Frogs have to try and balance the expectations birthed from 2022 versus their 2023 state of reality.
Dykes also had to address his hiring of Kendal Briles as his new offensive coordinator, the son of Art Briles and former Baylor assistant coach. Dykes said he vetted Briles extensively and has kept tabs on Briles and the Baylor situation for many years now, he also has known Kendal since he was 13 years old and is comfortable with his decision.
"The challenge this year will be to not take on the burden of expectations from last year."
— Sonny Dykes
DANA HOLGORSEN: BEING PREPARED FOR BIG 12 TRANSITION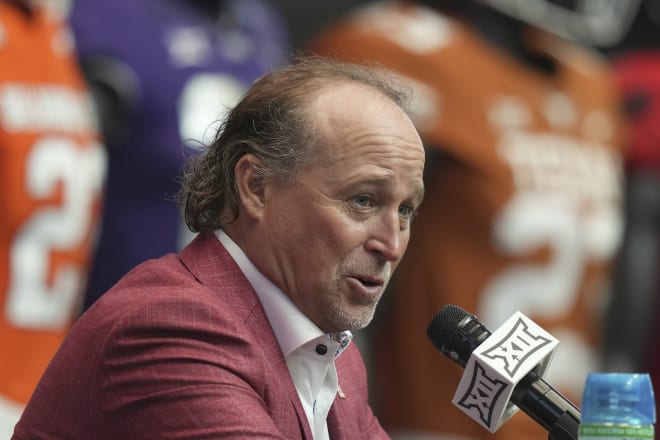 It might feel like deja vu for Dana Holgorsen in 2023, because over 10 years ago he made the same transitions with a team into the Big 12. Holgorsen thinks that the experience of his move with West Virginia can be beneficial for Houston in 2023 and on.
One thing that should help the transition is adding a quarterback with Power 5 and Big 12 experience like Donovan Smith, a Texas Tech transfer. Holgorsen said that was by design and "expectations are high for Donovan, felt it was important to bring a guy in with Big 12 experience."
Another element to Houston's move is that the Cougars got a little taste of the league last season, losing games to Kansas and Texas Tech.
He made it known to his team since January that "it is going to be like that every week," in regards to dealing with a tough loss and having to respond against a quality opponent the following week and not pressing too much like they did last season.
"Being in the American the last four years makes you appreciate being back in the Big 12."
— Dana Holgorsen
LANCE LEIPOLD: ACCEPTING EXPECTATIONS MIXED WITH REALITY
In two seasons under Lance Leipold Kansas has gone from cellar dweller to darling of the sport, now the Jayhawks are trying to find the right way to embrace the expectations and positive buzz that hasn't been in Lawrence for a long time, with also staying rooted in the reality of 2023.
Leipold says having routine fully established now as they enter year three, as well as having the positives of 2022 mixed with some eagerness to better last season's finish is a driving force for what they will do in 2023.
"This program hasn't had many expectations of late, so embracing those but keeping them in balance."
— Lance Leipold
DAVE ARANDA: BATTLING FOOTBALL DEMONS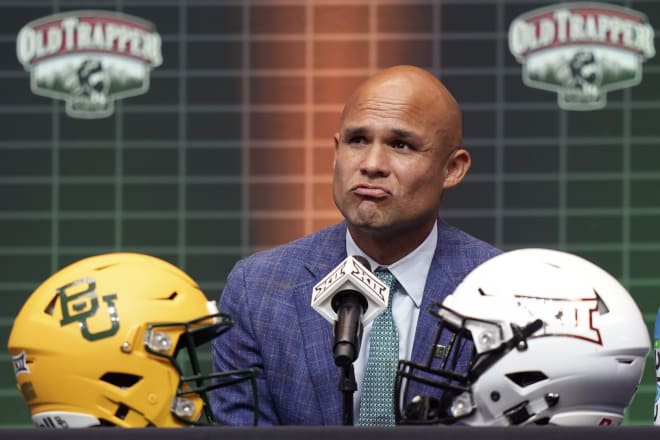 Dave Aranda was the most soft-spoken coach at Big 12 Media Days and didn't have anything wild to say, aside from alluding to the struggles of 2022. Aranda said the team struggled with personal coming out in the professional, and he admitted to being part of that. He also placed blame on himself for trying too hard to fix one or two players to the detriment of the rest of the team.
At the end of his opening remarks, it seemed clear that the Bears had some things going on behind the scenes that mimicked what caused K-State's struggles in 2020. Now with the season past them, Aranda's focus is on a better 2023.
Part of the improvement in 2023 will rely on Blake Shapen's improvements. Aranda said that there was so much good early for Shapen, that it may have been tough to handle the lows that came later in the year. Now with the balance of those experiences, Aranda has confidence in him moving forward.
"I think when you bring somebody in, you almost kind of stunt the growth of that person. I think for me to kind of come to grips with hey, this is what needs to happen for the betterment of the team as opposed to just looking at what's best for that one particular player on your team."
— Dave Aranda
MIKE GUNDY: NOT AFRAID TO TELL IT HOW IT IS
To no one's surprise, Mike Gundy came out pistols firing. The Cowboys coach dropped some dynamite takes on NIL, the transfer portal and Bedlam's death.
Gundy expressed his thoughts on why the Cowboys experienced so much upheaval on their roster after last season, as they expect to have 37 new players on the roster when fall camp opens next month.
"We have almost (got to the point) considering NIL & transfer portal like religion & politics. It's not even worth discussing anymore"
Another hot topic for Gundy to address was multiple questions about the changing Big 12 and the exit of rival Oklahoma and what it means for the Bedlam rivalry. Oklahoma State's schedule is filled up for the next 15 years and the onus of the lost rivalry is 100% on the Sooners, not the Cowboys said Gundy.
"I'm going to go back to what I said earlier. Oklahoma State is not going to change what we do because Oklahoma chose to go to the SEC. They need to change what they do because they're the ones that made their mind up to go to the SEC.
— Mike Gundy
STEVE SARKISIAN: IT'S ALL ABOUT WINNING THE BIG 12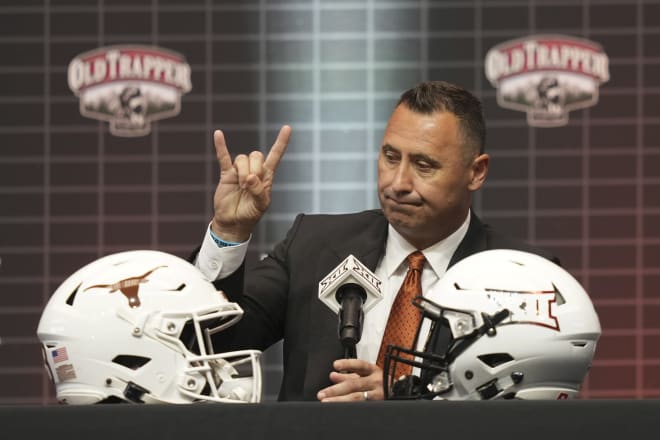 No matter the question, one message rang out for Steve Sarkisian and Texas: the Longhorns have to take care of business on Saturdays and they will be just fine.
When a question was thrown his way about the final regular season game holding any extra meaning since it was against Texas Tech, a former Southwestern Conference foe, Sarkisian's only focus was on winning the game because it hopefully put them in the Big 12 Championship game.
He downplayed the meaning of being the preseason pick for Big 12 champs because they had to execute on Saturdays and it would all manifest.
Sarkisian said all the right things to try and prove that the Longhorns mean business in 2023 and are focused on winning the Big 12 on their way to the SEC.
"I expect our team to play aggressive tough physical fast football every Saturday, if we do that we put ourselves in position to compete for a championship."
— Steve Sarkisian
KALANI SITAKE: LOVES BYU AND BEING IN THE BIG 12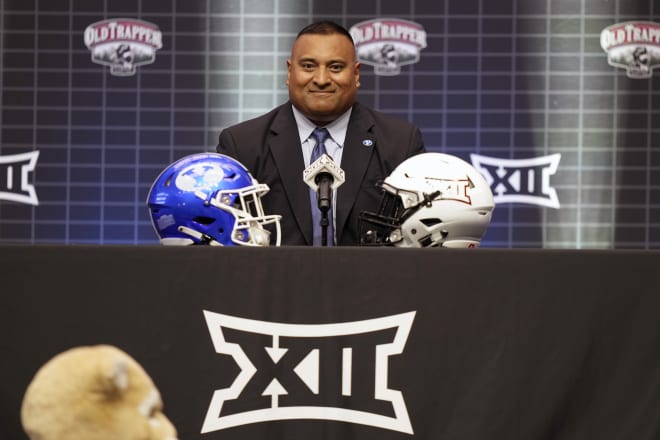 All four newcomers to the Big 12 seem excited to join the league, but BYU's Kalani Sitake seemed extra excited about it and the opportunity it brought him to help get other people in the know about his alma mater and current employer.
"This is something we have been dreaming of for a while, speaking as a fan, excited to have these opportunities. Also seeing the partners we have in the conference and there is a lot of great football [in the Big 12]."
Sitake stated that recruiting benefits have already come from being in the Big 12 and there is a chance to connect with new recruits about the football program and the school's faith-based mission as well.
"It's already been that way since the announcement of us joining the conference. We've seen an uptick in recruiting. I think it increases, maybe gets a little bit of curiosity for people that never thought about BYU as a destination to play. What they do is look into it and find out what they're aligned with what I'm aligned with and the mission…There's a lot of people that fall in line with that, whether they're members of the church or not. It's just opened the doors as far as widened our net a little bit in recruiting."
— Kalani Sitake
Comments
comments