by Mason Voth • EMAWOnline – Managing Editor – @TheRealMasonV
One week from today the calendar flips to August and with that it will be the start of fall camp for the K-State football team. One month away from kickoff of the 2023 season. With that in mind, here is a look at each opponent and how tough they will compare to each other on the schedule for the Wildcats.
12. SEMO
K-State kicks off its season with its traditional 6:00 PM start time against an FCS opponent, which happens to be SEMO in 2023.
Last season the Redhawks had a strong season at the FCS level, going 9-3 and 5-0 in their conference. The season ended in the first round of the FCS playoffs when they lost to Montana.
While the Redhawks aren't the same level of FCS pushover that West Virginia has played in past years, they still lost 42-10 to start their season against Iowa State last season and shouldn't pose a real threat against the Wildcats.
Since coming to K-State, Chris Klieman has helped K-State beat FCS opponents by an average score of 38-18.5 in three games, including last season's shutout of South Dakota.
11. TROY
Troy is a tough Group of 5 opponent on the schedule for K-State, which has been tricky in past seasons for Chris Klieman (Arkansas State & Tulane). The Trojans went 12-2 in 2022 and return quarterback Gunnar Watson, who has started the last 21 games for Troy. The numbers on offense for Watson aren't overly impressive with a 14/12 touchdown to interception ratio, and the Trojan defense loses a good chunk of contributors from the season prior.
Troy is no slouch and faced Coastal Carolina in the Sun Belt title game last season, but they are likely going to slide back a little this season and K-State should be able to take care of business.
10. HOUSTON
Houston is new to the Big 12 and one of two newcomers the Wildcats see on their schedule, both games are at home though and it seems like the Cougars will need some time to adjust to the league.
The Cougars will try to utilize Texas Tech transfer Donovan Smith or Friday Night Tykes legend Lucas Coley at quarterback which isn't the most inspiring bunch. Defensively the Cougars lost eight of their top nine tacklers from a defense that gave up 32.2 points per game.
9. IOWA STATE
Ask anybody about what the Cyclones will be in 2023 and you will get a bunch of different answers. It was a shaky 2022 for Matt Campbell, his team went 4-8 and Hunter Dekkers and his offense struggled mightily, wasting an elite defense.
Iowa State retains most of the talent on their defense, but lost first-round pick Will McDonald IV up on the edge and offensively the roster remains young. TJ Tampa in the secondary will be a major name to watch when K-State is more likely to go to the air against Iowa State this season with Will Howard at quarterback.
Top receiver Xavier Hutchinson was also lost to the NFL, it seems like the Clones will get better on offense but not enough to be a major threat in the Big 12.
8. AT OKLAHOMA STATE
My expectations for Oklahoma State are very low despite Mike Gundy winning seven games every season in Stillwater. I think this is the season that it doesn't happen as it seems he might be losing touch and control.
The Cowboys have a dire quarterback situation and are going to turn to Alan Bowman who started his career at Texas Tech before not seeing the field at Michigan for the last few seasons.
Defensively the Cowboys were stout in 2021 and it brought them within a game of winning the Big 12, but they have been searching for answers since losing their defensive coordinator Jim Knowles to Ohio State last season.
A Friday night road game early in the season to Boone Pickens Stadium won't be an easy task by any means though and that is why this game is higher than some of the others on the schedule.
7. BAYLOR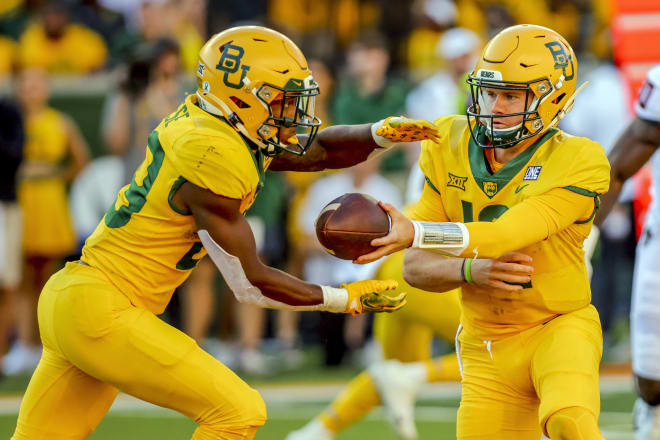 Baylor is in a similar boat with Iowa State in 2023, with mixed reviews from different people around the Big 12 and college football.
Dave Aranda and the Bears won the Big 12 in 2021 and were the preseason pick last season, but only went 6-7. Blake Shapen got his first full season as a starter after playing as a backup in 2021 and looking good. 2022 wasn't as successful for Shapen, but now as a junior, he has the experience and Aranda said at Big 12 Media Days that he learned a lot from the lows of 2022.
Another key for the Bears in 2023 will be their run game, Dominic Richardson transferred in from Oklahoma State and Richard Reese returns as an All-Big 12 preseason pick.
Baylor did struggle defensively last season and lost seven starters from that team, and K-State dominated 31-3 in Waco. A home game against the Bears in 2023 should be one of the easier games in the Big 12 for K-State this coming year.
6. UCF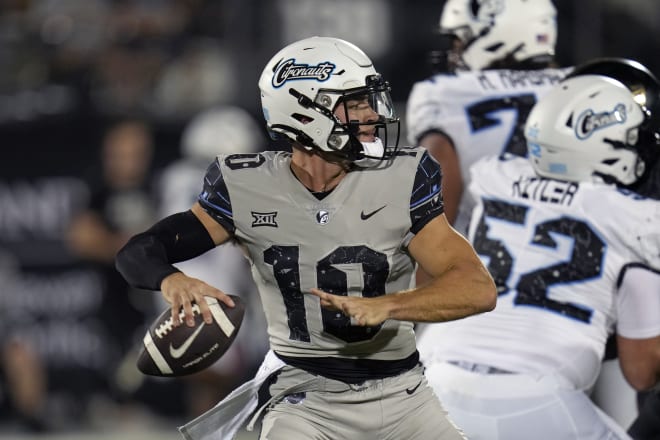 UCF is the other newcomer on the schedule for K-State and the Wildcats will open Big 12 play at home with the Knights. John Rhys Plumlee is instantly one of the quarterbacks in the top half of the Big 12.
This is a good team with a good head coach, but K-State is better right now and having the advantage of opening conference play at home with the Knights is a big advantage.
5. AT MISSOURI
K-State thrashed Missouri in Manhattan last season through rain and lightning and that was before K-State's offense was playing well.
The Tigers were able to march their way to a six-win season and even scared Georgia in Columbia last year. Brady Cook is back at quarterback, and talented receiver Luther Burden is now joined by Oklahoma receiver transfer Theo Wease as well. Defensively eight starters are back and despite allowing 40 to K-State, the Tigers gave up 25.2 points per game the entire season.
With better weather, more experience, and a home game, it can stand to reason that the Tigers give the Wildcats a much different look this season at Faurot Field. Now, Eli Drinkwitz is still their coach so take all of the improvements with a grain of salt.
4. AT KANSAS
Yes, believe it or not, a road trip to Memorial Stadium in Lawrence will be one of K-State's toughest games in 2023 and poses the greatest threat to the current 14-game winning streak K-State has in the series.
A lot of talent returns from the Jayhawks' first bowl team in over a decade, including preseason Big 12 Player of the Year Jalon Daniels. Running back Devin Neal is back as well, along with an improved offensive line from a season ago. Kansas' offense is going to be one of the best in the Big 12 again, pairing their talent with offensive coordinator Andy Kotelnicki.
The only question mark for Kansas will be what the defense looks like, the Jayhawks were 126th in the country in points per drive and allowed 35.5 points per game. The defense shouldn't be that bad, but there will be a lot that needs to be proven.
Even if the defense doesn't fully come together, a dangerous offense paired with a rivalry game on the road against a rejuvenated program late in the season is going to be a much different beast than what K-State has seen from Kansas over the last 14 years.
3. TCU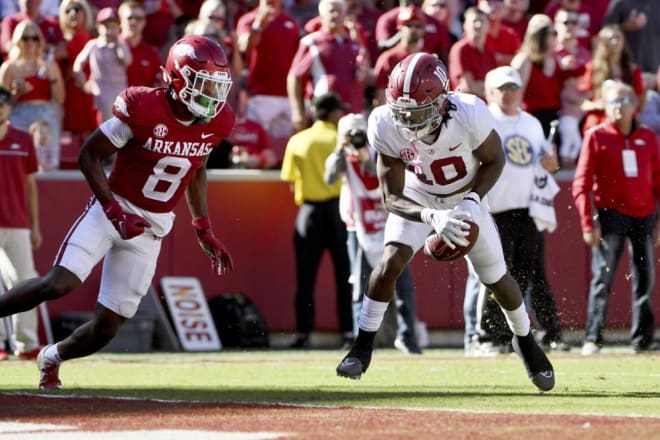 This is likely more of a respect to Sonny Dykes spot as TCU lost a ton of talent to the NFL and graduated from their national champion runner-up squad. Chandler Morris reclaims the starting quarterback job he had for one game last season against Colorado before injury and we will see what the rest of the Horned Frogs look like.
The good news for TCU's offense under new coordinator Kendal Briles is the Frogs added key transfers at receiver. Jojo Earle comes from Alabama and John Paul Richardson comes from Oklahoma State. TCU's key is likely to be offensive production and if the defense can replicate its 2022 performance. Some Frogs will also want to avenge the heartbreaking overtime loss to K-State.
2. AT TEXAS TECH
Texas Tech is the trendy pick in the Big 12 and deservedly so. Year one was a monstrous success under Joey McGuire, and he might just be building something special in Lubbock.
Tech surprised everyone with a top-third finish in the Big 12 and winning eight games last season, now Tyler Shough is back and healthy plus will have continuity at offensive coordinator, something that has never happened in his career before.
First-round pick Tyree Wilson is gone from the defense, but McGuire said at media days the Red Raiders are better as a collective unit rushing the passer now. This is a dangerous road trip for the Wildcats to a tough location and a program hungry for a signature win to announce their arrival as perennial contenders for the Big 12 title.
1. AT TEXAS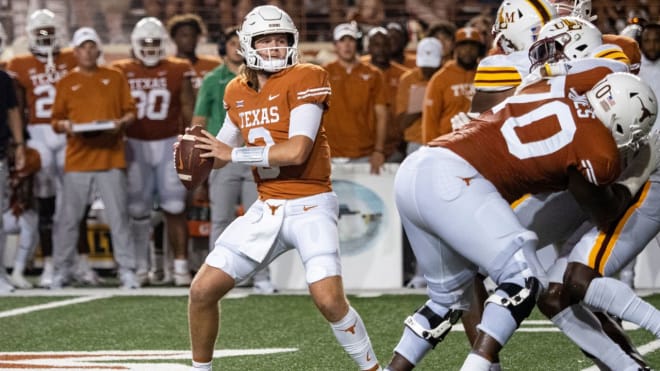 Not much to say other than it is Texas and on paper this should be the toughest game every season for K-State.
Quinn Ewers
 is back with experience, he will have a great offensive line in front of him as well as three talented returning receivers to throw the ball to. The Longhorns also have the Big 12's Preseason Defensive Player of the Year in 
Jaylan Ford
.
K-State dominated this series early in the Big 12's inception, but now the Longhorns have won six straight in the series and the Cats haven't snagged a win in Austin since 2011. This is easily the Wildcats' toughest game on the schedule and many pundits think this matchup happens once in Austin and a second time in Arlington.
Comments
comments