by Mason Voth • EMAWOnline – Managing Editor – @TheRealMasonV
From a1putter: How many conference games for basketball with 14 teams this year?
While the Big 12 is yet to announce the full basketball scheduling model for the upcoming season, we have some idea of what it could look like. This past October, CBS' Jon Rothstein reported that there would be a guaranteed two-game series with one opponent for each team. For K-State, they will face Kansas in both Manhattan and Lawrence.
It has been reported and I expect the league to remain at 18 games for conference play, with five teams being played twice and eight teams only appearing on the schedule once. While not explicitly stated, I would imagine K-State and Iowa State play each other twice as well, after that your guess is as good as mine.
We typically get the conference schedule in late September or early October, so be on the lookout for that.
From Drew4KSU10: Can a team be successful by recruiting high schoolers or is it imperative to hit the transfer portal?
K-State's transfer portal work this offseason has not been quite what anybody expected. To this date, K-State has only filled one of the four open scholarships they had and while it was filled by a highly sought-after guard like Tylor Perry, many questions remain.
The current situation for K-State makes it look like they are going to have to thrust an early load and expectation on some of their talented incoming freshmen. While I do think that college basketball teams can be successful if they remain traditional and use high school recruiting to get better, the portal will be key in supplementing the roster.
Jerome Tang's goal at K-State would be for high school recruiting to set K-State up for success and develop those players and keep them around for three or four years with the occasional transfer filling a role. Building a roster consistently on transfers is unlikely to bring sustained success or the highest level of success. K-State is just in that position early in Tang's reign because of the roster construction before he got to Manhattan.
The short answer: more success is likely by being successful in high school recruiting and only relying on the portal to fill roles, not an entire roster.
From K-State5921: When does the NCAA rule on KU?
Well, I am 25, so my guess is going to be we see the Jayhawk Quidditch team punished by the time my great-grandchildren are students at K-State.
In reality, I have zero idea of when a ruling will come on the Jayhawks. The IARP is overseeing their case and likely has been wrestling with the infractions that Kansas committed versus what is legal now. While I don't agree with that, because if something was illegal when you did it but legal now, doesn't make what you did legal then.
Our last update in the case came in March of 2022, but Sports Illustrated reported that the Jayhawks had their hearing in April of this year and we could see a ruling by the end of summer. My guess will be we know Kansas' fate by September and the NCAA wipes its hands of the IARP process which will be done away with after Kansas and LSU's cases are finalized.
From tredway21: Do the Cats make it back to the Big 12 Championship this year, what propels or holds them back?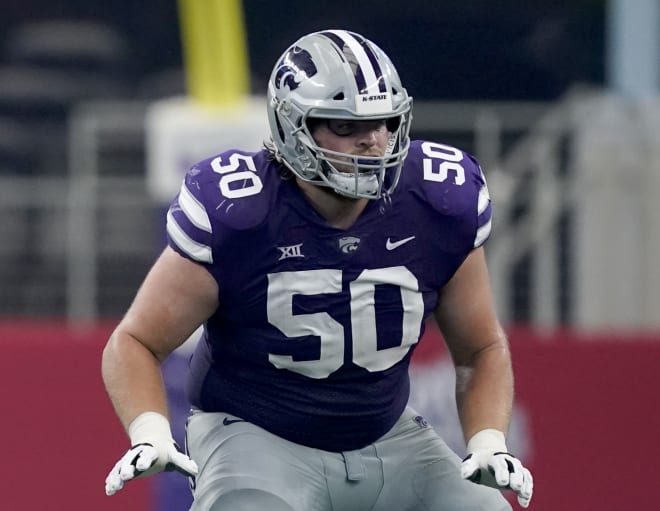 It is really tough to project teams to get back to the Big 12 title game unless they are Oklahoma, but K-State is certainly in a good position to do it and has a semi-favorable schedule.
My vote is yes, K-State returns to the Big 12 Championship game. Will Howard took a massive leap last season and is going to be an All-Big 12 candidate for this upcoming year. The entire offensive line is back with pieces that could overtake starters from last year's squad, and a running game that won't be a major drop-off even after losing Deuce Vaughn. Those are all great things that paint the picture of the Cats being back in Arlington.
If K-State doesn't make it back to playing for a Big 12 title, it will likely be due to the lack of proven players in the secondary and K-State's defense putting the offense in too many "must score" drives in 2023.
From diogenes51: Is there a new track in consideration and when will the volleyball and Olympic training center be open?
First up, the volleyball and Olympic training center will be open for this upcoming volleyball season.
As for a new track, the old indoor football facility is going to be repurposed and renovated for a new indoor track and field home for K-State Track & Field. Work should be started this summer, but there isn't a timeline for completion yet. K-State's release can be found here.
One other quick hitter thrown in, yes there is a new sign for Aggieville, but there is just one and it sits at over the entrance on the corner of Manhattan and Bluemont/Anderson.
Favorite spot to eat in Manhattan and what do you order?
Let me preface this by saying I am very lame and spend a lot of time at my house, even when I was in school at K-State.
I will side with Tredway though, even though it's pretty standard pizza, I appreciate Pizza Shuttle for what it is and their hours are elite. I found that out this year when I would walk out of Bramlage after a game and it was midnight and nowhere else was open, but Pizza Shuttle was. I always go pepperoni with cream cheese and my youngest brother came up to visit a few times when I was in school and loved it just as much. He will be a freshman in Manhattan this year, living in Goodnow, so I am going to assume he follows in my footsteps and eats a lot of that.
Another favorite of mine is Goodcents, and I know it is a national chain, but the service and quality of the one in Manhattan by Aggieville is unmatched. I don't know the GM/owner's name, but he is always the nicest dude in the world and I love stopping in when I am in town to get a sandwich. When I moved to Wichita, there were only two Goodcents' and they are now down to one, neither holds a candle to the Manhattan location.
You can't go wrong with breakfast of any kind, so I love both Early Edition and The Chef. Also since I lived on the west side in school, my grandparents and I would always go to Powercat Sports Grill where I get their Reuben. I think it is a great spot to get an early dinner before heading to a basketball game on a weeknight.
Comments
comments