When:
September 21, 2021 @ 7:00 pm
2021-09-21T19:00:00-05:00
2021-09-21T19:15:00-05:00
Where:
Azura Amphitheater
633 N. 130th St. Bonner Springs
KS 66012
K-ROCK welcomes SHINEDOWN to the Azura Amphitheatre Tuesday September 21st!
Carrying the weight of 8 albums and 27 Top 5 songs, SHINEDOWN takes to the road with special guest; THE STRUTS!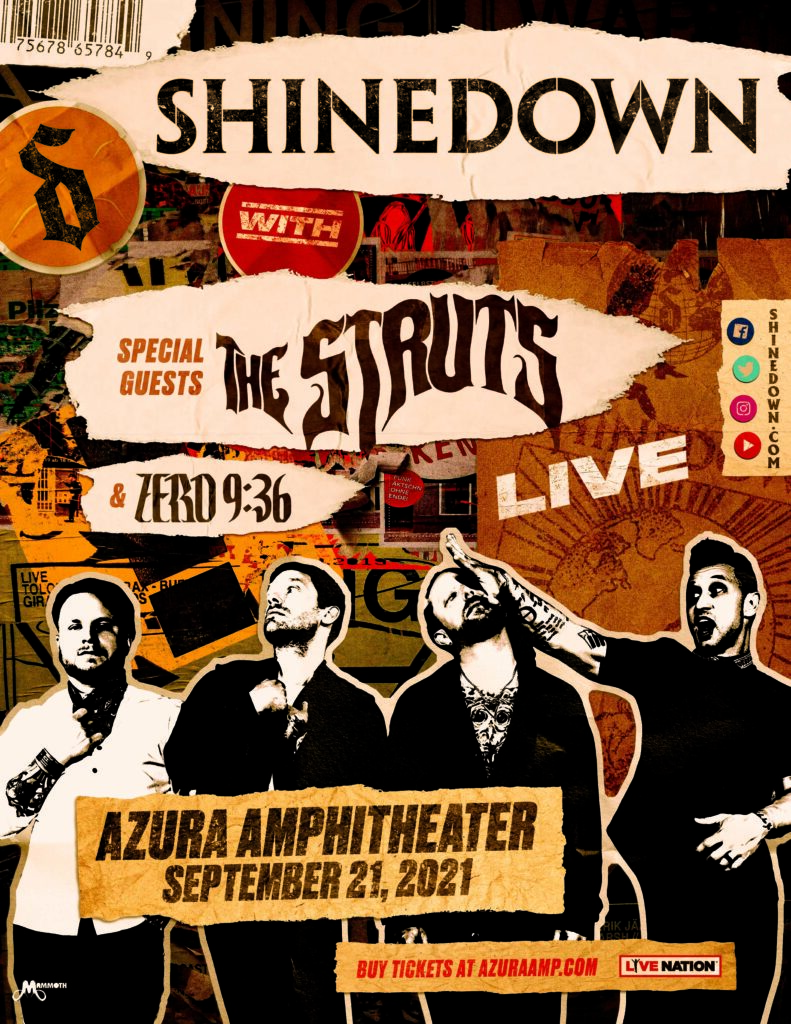 Since forming in Jacksonville, Florida in 2001, Shinedown – Brent Smith [vocals], Zach Myers [guitar], Eric Bass [bass, production], and Barry Kerch [drums] – have sold more than 10 million albums and 10 million singles worldwide, earned 14 platinum and gold singles, five platinum and gold albums, 16 No. 1 Active Rock hits, and amassed more than 2.4 billion total streams. They have crushed Billboard's Mainstream Rock Songs airplay chart with all of their 26 consecutive career singles reaching the Top 5, an unparalleled achievement. Recent hits "ATTENTION ATTENTION," "GET UP," "MONSTERS" and "DEVIL" bring their total to 16 No. 1s on the Mediabase Active Rock Chart and 15 No. 1s on the Billboard Mainstream Rock Songs Chart, tying the record for the most No. 1s ever on both charts. Some of the group's other No. 1 hits include "Second Chance," "Save Me," "Sound of Madness," "Bully," and "The Crow & The Butterfly."
The story that unfolds on their latest acclaimed album ATTENTION ATTENTION (Atlantic Records) is an enduring statement about the resolve of the human spirit – touching on themes such as mental health, overcoming struggles and not being afraid to fail and the importance of our human connection with one another. Speaking to the human spirit in a time of need, crossover hit "GET UP" (which has racked up more than 57 million streams and landed the band on Live with Kelly & Ryan) quickly became a beacon of light for listeners around the globe with its urgent and universal message of hope, empathy and encouragement.
Shinedown's distinct mix of explosive rock 'n' roll spirit, thought-provoking lyrics, melodic sensibility and cinematic flourishes colours on ATTENTION ATTENTION, which has racked up more than 324 million global streams, simultaneously hit #1 on Billboard's Alternative, Top Rock and Hard Rock Albums Charts, debuted Top 5 on the Billboard 200.
Hailed for their high-octane live shows, Shinedown continues to engender diehard love from millions of global fans and has racked up countless sold-out tours and festival headlining sets, propelled by their world-class showmanship and the undeniable power of front man Brent Smith's voice.
Comments
comments